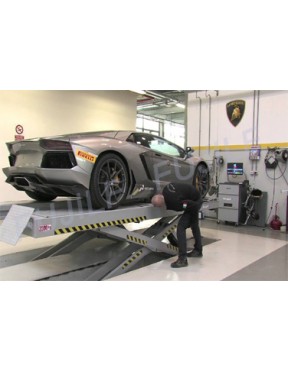 Scissor Hydraulic Car liftplatform

elevator390
General Details
Specification
Feedback
Scissor Hydraulic car lift platform
Product Description
Car scissor lifting platform is a special hydraulic lifting machine to vertical transport vehicles, It is mainly used in all kinds of transportation between different floors in a building, such as building parking, auto 4s shop, etc.
Especially suitable for low rise building. It is the safety and ideal Automobile transportation
equipment.
Feature:
1). Heavy duty loading capacity
2).High safety performance
3).Easy operation
4).It is simple apply to a variety of architectural design, it can save building space without top room location.
5 Installed in a pit/hole: when the equipment closed, it is can same level with the ground.
Scissor Hydraulic car lift platform safety precautions:
A). The lift is equipped with safety and anti-explosion device for hydraulic pipelines.
B). The aluminum man lift is equipped leakage protection devices.
C). Elevating mechanism adopts high-strength manganese steel rectangular pipe.
D). Safety device to prevent the elevating platform from overloading.
E).Emergency falling device in case of power off.
SJG series

Load

Platform Size

Lifting height

Self-height

Dimensions(m)

SJG3-3

3T

2.2*5.5M

3M

800mm

2.2*5.5*1.0

SJG2-3.5

2T

1.8*1.2M

3.5M

680mm

1.8*1.2*0.68

SJG2-0.5

2T

1.8*1.6M

0.5M

440m

1.8*1.6*0.44

SJG1-6

1T

1.9*1.1M

6M

1100mm

1.9*1.1*1.10

SJG2-6

2T

2.0*1.3M

6M

1200mm

2.0*1.3*1.20

SJG1.5-0.8

1.5T

2.0*1.5M

0.8M

500mm

2.0*1.5*0.5

SJG1-4.3

1T

2.0*1.8M

4.3M

800mm

2.0*1.8*0.80

SJG2-6

2T

2.0*2.0M

6M

1030mm

2.0*2.0*1.03

SJG3-2.4

3T

2.0*2.0M

2.4M

630mm

2.0*2.0*0.63

SJG3-2.4

3T

2.0*2.0M

2.4M

660mm

2.0*2.0*0.66

SJG2-5

2T

2.1*1.2M

5M

870mm

2.1*1.2*0.87

SJG1-4.5

1T

2.1*1.5M

4.5M

800mm

2.1*1.5*0.80

SJG5-6.5

5T

2.2*1.6M

6.5M

1280mm

2.2*1.6*1.28

SJG3-6.5

3T

2.2*1.9M

6.5M

1520mm

2.2*1.9*1.52

SJG1.5-3.8

1.5T

2.2*2.0M

3.8M

700mm

2.2*2.0*0.70

SJG2-3.8

2T

2.2*2.0M

3.8M

830mm

2.2*2.0*0.83

SJG2-5

2T

2.3*1.4M

5M

870mm

2.3*1.4*0.87

SJG2-5.15

2T

2.3*1.4M

5.15M

870mm

2.3*1.4*0.87

SJG2-1.3

2T

2.3*2.0M

1.3M

400mm

2.3*2.0*0.40
Scissor Hydraulic car lift platform