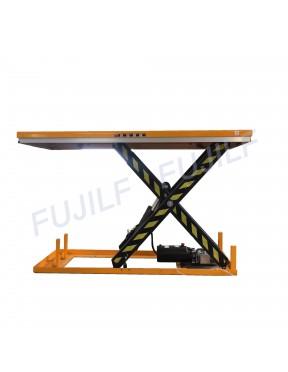 cargo lift platform

elevator390
General Details
Specification
Feedback
FUJILF stationary hydraulic scissor lift can be used to lift cargo with different levels, suitable for cargo moving between stairs, from basement to first floor, or to second floor.
FUJILF hydraulic cargo platform lift Operation is easy. There are 2 sets control system installed on the stationary hydraulic scissor lift, 1 control box below, and 1 hand controller on safety guard rail that can be operated on work platform.
Configuration:
1) Platform Material:120mm*60mm rectangular tube +6mm checkered anti-slip plate
2) Support scissors: 200mm*100mm*10mm high strength Manganese Steel.
3) Hydraulic system: 380V/7.5Kw or 220v or as your request
4) Hydraulic cylinder: 110*4sets high precision wear-resisting cylinders with locking device for fall protection
5) Piston Rod: 70*4 hard chromium plating surface.
6) High-pressure oil pump: from Italy or Chinese famous brand.
7) Hydraulic pipe: high pressure pipe with double expanded metal protected
8) Hydraulic oil: summer 46#, winter 32#
9) Controller: 1 control box below, 1 hand controller above platform
Safety:
1.Low-tension (24V) control box with up-down buttons.
2. Upper platform lifted with aluminum safety bar preventing descent on contact with obstructions.
3. Safety clearance between scissors to prevent trapping during operation.
4. Heavy duty cylinders with drainage system and check valve to stop the lift table lowering in case of hose burst.
5. Internal power pack equipped with relief valve against overloading and compensated flow valve for controlled lowering speed.
6. Self lubricating bushings on pivot points.
7. Removable lifting eye to facilitable handling and lift table installation
Our services:
1) We can design the customerized stationary hydraulic scissor lift as per your requirement.
2) The most suitable stationary hydraulic scissor lift will be recommended to you once we got your requirement.
3) Shipment can be arranged from our port to your destination port.
4) Operation video can be sent to you if needed.
5) User-friendly English manual for machine installation using and maintenance.
6) 2 years warranty for whole machine without man-made faults.
7) We will send you parts for free if there are any non-human factors faults during warranty time.
8) Supply 24-hours technical assistance by email, telephone or other communication online.
Model

Capacity

Min height

/Max height

Platform

(length*width)

Base size

(length*width)

Lift time

Voltage

Net weight

(Kg)

(mm)

(mm)

(mm)

(s)

(Kg)

SJG-HW1001

1000

205/990

1300×820

1240×787

20-25

380V/220V 50H

160

SJG-HW1002

1000

205/990

1600×1000

1240×787

20-25

380V/220V 50H

186

SJG-HW1003

1000

240/1300

1700×850

1615×787

30-35

380V/220V 50H

200

SJG-HW1004

1000

240/1300

1700×1000

1615×787

30-35

380V/220V 50H

210

SJG-HW1005

1000

240/1300

2000×850

1615×787

30-35

380V/220V 50H

212

SJG-HW1006

1000

240/1300

2000×1000

1615×787

30-35

380V/220V 50H

223

SJG-HW1007

1000

240/1300

2000×1700

1615×1404

30-40

380V/220V 50H

365

SJG-HW1008

1000

240/1300

2000×1700

1615×1404

30-40

380V/220V 50H

365

SJG-HW2001

2000

230/1000

1300×850

1220×785

20-25

380V/220V 50H

235

SJG-HW2002

2000

230/1000

1600×1000

1220×785

20-25

380V/220V 50H

268

SJG-HW2003

2000

250/1300

1700×850

1615×785

20-25

380V/220V 50H

289

SJG-HW2004

2000

250/1300

1700×1000

1615×785

20-25

380V/220V 50H

300

SJG-HW2005

2000

250/1300

2000×850

1615×785

20-25

380V/220V 50H

300

SJG-HW2006

2000

250/1300

2000×1000

1615×785

20-25

380V/220V 50H

315

SJG-HW2007

2000

250/1400

1700×1500

1615×1404

20-25

380V/220V 50H

160

SJG-HW2008

2000

250/1400

2000×1800

1615×1404

20-25

380V/220V 50H

160

SJG-HW4001

4000

240/1050

1700×1200

1600×900

20-25

380V/220V 50H

375

SJG-HW4002

4000

240/1050

2000×1200

1600×900

30-40

380V/220V 50H

405

SJG-HW4003

4000

300/1400

2000×1000

2000×900

30-40

380V/220V 50H

470

SJG-HW4004

4000

300/1400

2000×1200

2000×900

35-40

380V/220V 50H

490

SJG-HW4005

4000

300/1400

2200×1000

2000×900

35-40

380V/220V 50H

480

SJG-HW4006

4000

300/1400

2200×1200

2000×900

35-40

380V/220V 50H

505