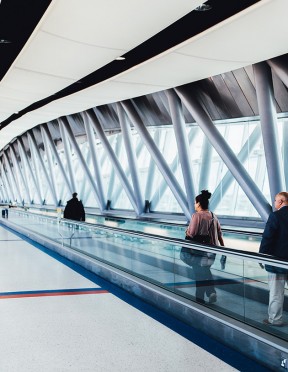 Moving Walkway

elevator390
General Details
Specification
Feedback
Riding The Escalator As Easily As Walking On Firm Earth,you Can Feel The Green Tinge
With the sophisticated escalator technology introduced from Japan, the advanced micro control system, the high-intensitive truss structure, classical driving technology and perfect safety device, the FUJILF series of Moving Walkway products can provide safe, reliable, durable, smooth and comfortable riding. With the exquisite crafts, smooth lines and graceful modeling, these products can provide both utility functions for riding and visual decorative effect. With the VVVF selected, these products can save electricity and energy, and endure all kinds of climate environments.
It allowes easy and safe access to all parts of the building, even when moving with a loaded cart or trolley. Blending engineering knowhow and style,this reliable and durable solution from FUJILF,a globally recognized escalator and Moving Walkway specialist,is an asset to any quality shopping experience.Maximum safety is built into the design of the FUJILF Moving Walkway and ensured through rigorous testing under real on-site conditions.
Advantageous performances of Moving Walkway
Moving Walkway
Advantages and characteristics
| | |
| --- | --- |
| | Compact structure, ease strain: Short pallets can greatly reduce space span, which can flexibly fits the build ing structure and save the construc-tion space for the customer, lt comprises H version(horizontal), l version (incline) and C version (compact) can let the customer have a free choice on his original layout. |
| Space-saving | |
| | Stable and reliable investment: The pallet directly connecting with the chain which makes the running more smoothly and quietly, thus the service life is extended and its maintenance can be easily conducted, Specia l designed big wheel handrail drive runs in low noise and big power, which improves the running condition of handrail, its life is hence prolonged, Unique tube structure has a big load capacity, which greatly improve s the overall stability and service life. |
| Space-saving | |
| | Colorful decoration: Various styled handrail can meet personal demand in different environments, Beautiful stainless steel floor plate has a three-dimension effect, lner and outer decking adopts stainless steel. |
| Space-saving | |
| | Incomparable economical: The Moving Walkway fully utilizes advanced manufacturing process, greatly improve s product performance and service life, the most direct result is that the operation cost of the customer is re duced, The optional VF drive technology yields great energy-saving, reducing the running cost to the maxim um. |
| Space-saving | |
Highly effective ecological design
Optional lubrication-free chain helps protect the environment and eliminate fire hazards.The expertise of FUJILF ensures reliable operation of the production during the entire life cycle.The longest oil changing intervals in the industry.Compared with traditional lighting, the new LED lighting helps save the energy of up to 80%.

No doubt about the high reliability
Optional stainless decorative panels and apron board realize great durability.
Optional waterproof function ensures semi-outdoor operation even under the adverse conditions.