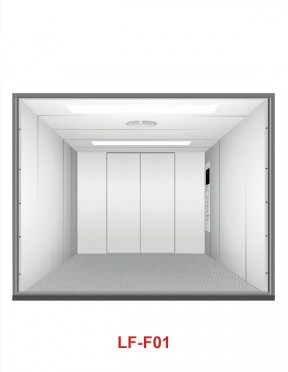 Freight Elevator

elevator390
General Details
Specification
Feedback
FUJILF freight elevator is committed to achieve the standard of energy saving, noise reduction, permanent force and accuracy, whose technology achieves mature with dozens of product categories; the load span ranges from 500 KG to 5T, which can satisfy the usage requirements of different places like factory, warehouse, logistics center, supermarket, airport, and stations and so on.
Large door opening distance

It uses multi-fold car door, with door opening dimension of the same width of the car, can reach the max door opening width so as to provide convenience for freight and people in or out, greatly improving operational efficiency.

Constant running

Constant torque characteristics, leveling accuracy is controlled within millimeter range, no worries at all.

Super loading capacity

Specially improved design of the car and chassis, truly reflects the solid Germany quality.
VVVF variable frequency door machine
The freight elevator introduces the latest VVVF variable frequency technology to make the door machine able to stand the test of frequent use. It not only ensures smooth and synchronal door opening and closing, but also overcomes the disadvantages of loud noise and large vibration of the traditional elevators, greatly enhances efficiency and saves energy.

Microcomputer control system
FUJILF series freight elevator uses microcomputer control system of high-performance industrial CPU device, having great advantages of lowering CPU external frequency and improving system anti-interference ability.

Serial communication technology
Serial communication is a new type of centralized and decentralized elevator control system, each sub-controller can do works such as calling, instructing, and displaying, greatly reducing the burden of the main controller and significantly improving its efficiency. Based on signal modulation technology by pulse transformer, it can effectively isolate outer signal interference, and make running more stable and smooth.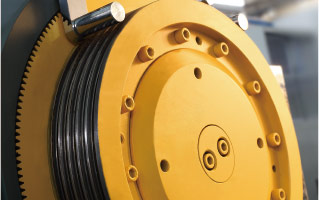 Permanent magnet synchronous technology
FUJILF elevator uses rare earth materials, external rotor structure, permanent magnet synchronous motor drive, and fully integrates coaxial transmission technology, digital inverter technology with group computer control technology, making the control system more reliable. The application of permanent magnet synchronous technology eliminates potential problems of increased noise, decreased transmission efficiency, etc caused by inevitable mechanical wear of contact-type transmission, without using oil, which can avoid fire accidents. It can effectively reduce energy consumption, and meet customer needs in energy efficiency, practicability, stability and many other aspects.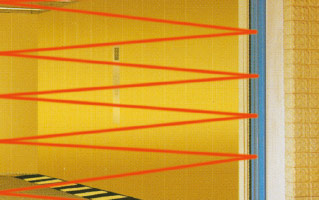 Light curtain protection system
It can form layers of protective barriers in the elevator door, prevent people and freight being caught by door in the process of transportation, safer for use. The performance is stable and reliable, has the characteristics of intelligent recognition, closed failure transmitting tube and failure protection design, and stronger anti-interference ability.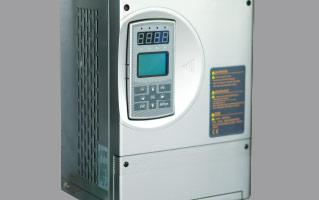 High-performance vector frequency converter
FUJILF series freight elevator introduces in the most advanced German high-performance vector frequency converter, which can greatly improve the control performance of AC motor, meet the on-site technical requirements of engineering staffs and reduce the maintenance difficulty, providing endless possibilities for future energy-saving and environmental elevators.