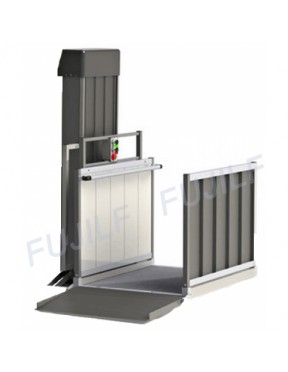 FUJILF Platform Lift

elevator390
General Details
Specification
Feedback
Description
FUJILF Open Style wheelchair Platform Lifts (sometimes referred to as Steplifts) are an aesthetically pleasing and cost effective way or transporting wheelchair users or parents with pushchairs between two levels.
Capable of raising up to 3 metres and lifting 400kg, this stair lift offers the benefits of a conventional Platform Lift (no pit or lift shaft required) but with the feeling of freedom that comes with an open aspect design.
Available in a colour of your choice or in brushed stainless steel, FUJILF Open Style Vertical Platform Lifts will blend in with the environment, whether workplace or at home, office or retail.
• Travel: 0-2m
• Compliance: European Machinery Directive
• Speed: 0.15 m/sec
• Platform size: 1100 x 1400 mm
• Door type: Manual swing doors (optional auto) Aluminium with clear infills on each level
• Door configurations: Through-car entrances
• Max stops: 2
• Power : Hydraulic 220v Single Phase
• Control system: Hold to run
• Environment: Internal or external
• Max load: 500 kg
• Pit: No pit
• Headroom: Minimum 2000 mm above top landing
• Application: Indoors & Outdoors
• Fixing Method(s): Floor Mounted and at Threshold
Lift options
Automatic doors
RAL colour options
External (I.P. Rating)
Warranty
12 months
Optional extended warranty available
Key advantages
No pit required
Hydraulic unit enclosed in lift frame
Attractive ergonomic design
BCA and DDA compliant
FUJILF Platform Lift